Deciding to watch the entire ten seasons of Friends was probably the best idea I ever had. I might have spent every spare second I had watching this during four months, but it was all worth it. I had seen some episodes here and there for years, but I had never watched the entire serie from the first episode of Season One to the last episode of Season Ten. I probably won't write anything you don't already know, as this show is so popular and loved, but after a brief summary of the show and the characters, I will post my favorite scenes and some quotes.
Friends aired for the first time in September 1994 in the NBC network on American television. It was created by David Crane and Marta Kauffman. According to the Wikipedia page, the series finale (the 236th episode), which aired on May 6, 2004 (almost 8 years ago! Don't we feel old now?), was watched by 51.1 million American viewers, making it the fourth most watched series finale in television history and the most watched episode of the decade. Filmed in front of a live studio audience in California, the show followed the lives of 6 friends for 10 years.
Rachel Green, portrayed by Jennifer Aniston, is a fashion lover and Monica's best friend from high school. Rachel and Ross Geller are involved in an on-again-off-again relationship throughout the series. Rachel's first job is as a waitress at the coffeehouse Central Perk, but she later becomes an assistant buyer at Bloomingdale's in season three, and a buyer at Ralph Lauren in season five. At the end of season eight, Rachel and Ross have a daughter, Emma.
Monica Geller, portrayed by Courtney Cox, is the mother hen of the group and a chef, known for her obsessive-compulsive and competitive nature. Monica is often jokingly teased by the others for having been extremely overweight as a child. Monica works as a chef in various restaurants throughout the show and marries Chandler Bing in season seven.
Lisa Kudrow portrays Phoebe Buffay, an eccentric masseuse and self-taught musician. Phoebe is ditsy but street smart and writes and sings (badly) her own quirky songs, accompanying herself on the guitar. She has an "evil" identical twin named Ursula. In the last season, she marries Mike Hannigan played by Paul Rudd.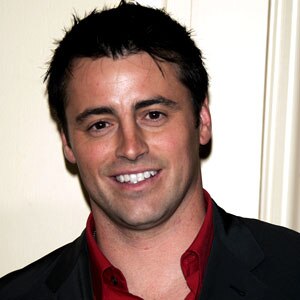 Joey Tribbiani is portrayed by Matt LeBlanc. He is a struggling actor and food lover who becomes famous for his role on
Days of our Lives
as Dr. Drake Ramoray. Joey is a simple-minded womanizer with many short-term girlfriends throughout the series. He falls in love with Rachel in season eight.
Chandler Bing, portrayed by Matthew Perry, is an executive in statistical analysis and data reconfiguration for a large multi-national corporation (which all the others can't seem to remember). Chandler quits his job and becomes a junior copywriter at an advertising agency during season nine. Chandler is known for his sarcastic sense of humor and bad luck in relationships. He went out for a while with Janice (Maggie Wheeler), a very enthusiastic and loud woman with a nasal condition, and runs into her during the entire ten seasons. Chandler marries Monica in season seven, and they adopt twins at the end of the series.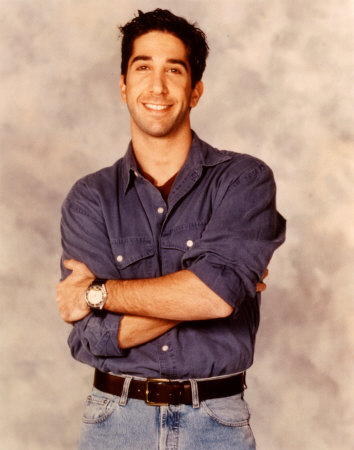 David Schwimmer portrays Ross Geller, Monica Geller's older brother, a paleontologist working at the Museum of Natural History, and later a professor of paleontology at New York University. Ross is involved in an on-again-off-again relationship with Rachel throughout the series. Ross has three failed marriages during the series: Rachel, Emily, and Carol, a lesbian who is also the mother of his son, Ben (Cole Sprouse). He and Rachel have a daughter at the end of season eight and they confess that they are in love with each other in the last episode of the last season.
Favorite parts of the show
:
Favorite episode
:
The One Where Ross Is Fine
or
The One With The Rumor
. The first one made me laugh too much, David Schwimmer is just hilarious. The second one is the one with Brad Pitt, and I just thought it was hilarious that he hated Rachel, and he made me laugh a lot.
Favorite scene of the show
: the Monica/Chandler proposal (
The One With The Proposal
). I know, I am a girl, but I cried and laughed so much at the same time during this scene that it is forever my favorite one.
Saddest scene of the show
: Joey telling Rachel he loves her (
The One Where Joey Tells Rachel
). This scene was simply awful. I am not really a fan of the Rachel-Joey relationship, but this scene made me cry all the tears in my body. It was too sad.
Favorite male character
: Chandler Bing, how could I not. His jokes were the best. And then, Ross Geller.
Favorite female character
: Rachel Green. Although I love the others a lot, she was the best for me.
Favorite guest star character
: Janice! I just loved how she came back around every season, she is hilarious.
Favorite relationship
: Ross and Rachel, of course.
Memorable Quotes
Phoebe: [
Right after playing a song in the coffee shop
] If you want to receive e-mails about my upcoming shows, then please give me money so I can buy a computer.
Rachel: Okay, no uterus, no opinion.
Janice: Oh... my... God!
Ross: We were on a break!
Reporter: What's your name?
Phoebe: Phoebe. That's, P, as in Phoebe, H, as in hoebe, O as in oebe, E, as in ebe, B, as in bebe, and E as in... Ello there mate.
Joey: Look at me! I'm Chandler! Could I BE wearing anymore clothes?
Chandler: The sun will come out tomorrow.. BET your bottom dollar that tomorrow.. THERE'LL BE SUN!
Phoebe: I'm Regina Phalange.
Joey: How you doin'?
Chandler: Woopah!
Phoebe: Smelly cat, smelly cat, what are they feeding you? Smelly cat, smelly cat, it's not your fault.
Ross: I bruise like a peach.
Ross: Your money is mine, Green.
Rachel: Your fly is open, Geller.
Ross: What are you doing?
Chandler: Making chocolate milk. You want some?
Ross: No thanks, I'm 29.
Rachel: I got off the plane.